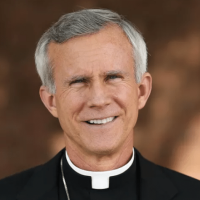 "Catholic Reproductive Health: Encouraging Marriage, Children and Chastity in a Time of Turmoil"
Most Rev. Bishop Joseph Edward Strickland serves as the fourth Bishop of Tyler.
He was born the sixth child of Raymond and Monica Strickland in 1958. He grew up near Atlanta, Texas, where the Strickland's were founding members of St. Catherine of Sienna Church. Strickland graduated from Atlanta High School 1977. Called to the priesthood, he entered Holy Trinity Seminary and the University of Dallas in August of 1977.
On June 1, 1985, Strickland was ordained to the priesthood for the Diocese of Dallas by Bishop Thomas Tschoepe at St. Monica Catholic Church. He was assigned as a newly-ordained priest to Immaculate Conception Parish in Tyler in June of 1985 and served as parochial vicar until June of 1989.
Upon the creation of the Diocese of Tyler in 1987, Father Strickland then joined the presbyterate of the new diocese and was named the first vocation director in March of 1987 by Bishop Charles Herzig. He was assigned as parochial vicar of Sacred Heart Parish in Nacogdoches in June of 1989 and served there until October of that same year when he was assigned as pastor of St. Michael Parish in Mt. Pleasant. In August of 1992, he was assigned to study canon law at Catholic University of America.
After completing his licentiate (JCL) in canon law in May of 1994, Father Strickland was assigned by Bishop Edmond Carmody as pastor of the Cathedral of the Immaculate Conception in Tyler. He was appointed judicial vicar for the diocese in 1995 and was named a Prelate of Honor with the title of Monsignor by Pope John Paul II in 1996.
When Bishop Carmody was named Bishop of Corpus Christi in March of 2000, Mgr. Strickland was elected diocesan administrator for Tyler and served in that capacity until January of 2001 when Bishop Álvaro Corrada was installed as the third Bishop of Tyler.
In 2010, Msgr. Strickland was appointed vicar general of the diocese, and when Bishop Corrada was transferred to Mayagüez, Puerto Rico in 2011, Strickland was appointed delegate of the apostolic administrator for Tyler.
In September of 2012, Pope Benedict XVI named Msgr. Strickland as the fourth Bishop of Tyler. He was consecrated as bishop on November 28, 2012 by Cardinal Daniel DiNardo of Galveston-Houston.